The OMX is one of the most exciting conferences in online marketing and is known for selected speakers and valuable networking. Mazing was once again able to give a lecture on AR in marketing at the OMX this year. Of course, we also want to make the content accessible to our readers and customers.
With so many new technical developments, it's easy to lose track of what's out there and what's really useful. One of the most exciting developments, which is ideally suited to the field of online marketing, is Augmented Reality (AR). With AR, new innovative campaigns can be created that are a real experience for the user.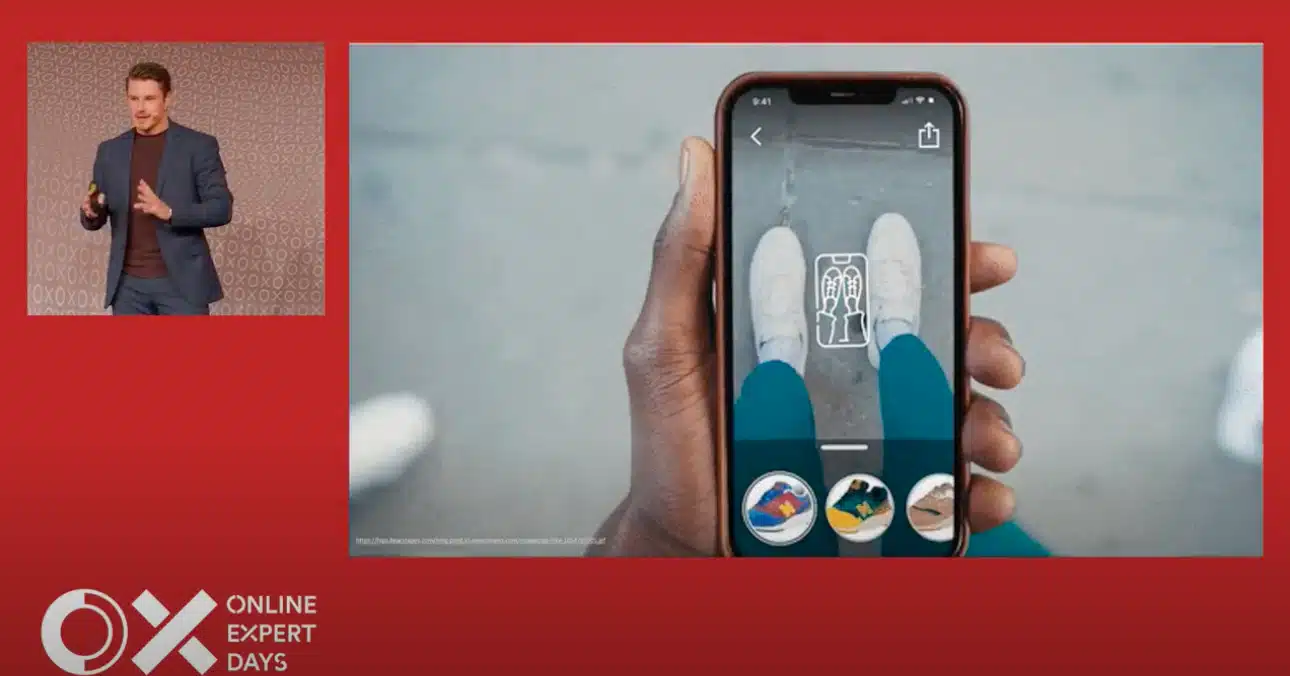 What will be possible with AR in the future?
AR can - and is - used in many different areas. Here are a few examples that illustrate the enormous potential.
AR board games:
Tilt Five has developed a new type of board game that uses AR to create a living 3D world out of an empty space. However, like a classic board game, the players are in the same room, which leads to social interaction. It should also be possible to create your own game worlds. In this way, the player himself becomes a content creator.
AR in art and music:
Scanning QR codes to get more information about an object is nothing new. However, AR also makes it possible to display things that are not possible in reality. You can simply point your mobile phone camera at a picture and shapes and colors become visible that cannot be shown in real life, or a musical accompaniment sounds. This can greatly enhance a visit to a museum.
AR in education:
It is already possible to provide information material or school books with QR codes or markers. If you scan them, videos appear that explain the content. This is very useful in the field of anatomy. A whole body can be virtually placed in the room and viewed from all perspectives. The body can be dismantled into individual parts, muscles can be displayed, movements can be shown, etc. Even during on-site visits, important information about contemporary history can not only be processed in depth, but decayed historical buildings can also be expanded through AR and thus brought to new life will.
Machinery:
The shortage of skilled workers means that processes have to be explained more and more easily, even to employees who are not specially trained. AR explains the operation interactively, e.g. B. the button that needs to be pressed is highlighted directly on the machine. This increases efficiency and reduces the susceptibility to errors.
AR in eCommerce:
AR can be used, for example, to place furniture in the room. In this way, you can assess whether the dimensions and style fit before you buy. But the whole thing goes one step further. In this way, entire rooms can be scanned. With AR, your own real furnishings are then hidden and replaced by new, virtual ones.
Who is already using AR in marketing?
The technical possibilities seem endless. But are these already in use? And above all: Does that bring anything?
Coming back to the realm of e-commerce, AR technology can recognize body parts, such as feet, and overlay them with virtual products - in this case, shoes. Shoes can be tried on virtually before they are bought. The shoe try-on is becoming more and more popular and can be optimally used for advertising purposes. Big brands like New Balance, Asics, Puma or Adidas already have the new feature available. New Balance, for example, confirms that this is worthwhile with an 18% increase in the conversion rate and a 12% reduction in returns. There is more information on the topic here: AR Try On or here: Try on for shoes
You can also do AR for packaging used to boost the sale of a product. Bombay Gin has developed an innovative label. If this is scanned, videos for mixing the drink appear. Kelloggs has also upgraded packs of its Choco Pops with AR. Not only was the path from the cocoa bean to Choco Pop tangible, it also contained virtual mini-games for children. The result of all this was a 70% better memory coding; what was experienced visually and interactively was remembered a lot better.
A widespread problem of convenient online shopping is that hardly any people visit real shops anymore. So how do you get customers back into the branches? An Under Armor shop in New York decided to offer its customers an in-store AR shopping experience. Products of various sports are on display and enhanced with AR. There was a real hype because people filmed themselves in the shop and shared it on social networks. After a survey, 55% of those questioned stated that they believe that AR improves the shopping experience in the real shop.
Burger King had posters from competitor MC Donalds burned. Of course only virtually! As a participant in this campaign, you received a free Whopper in the shop. At KFC, too, you could temporarily exchange virtual chicken wings, which you had to collect in a "chicken wing hunt" through the city, for real chicken wings. The result was a 220% higher return on investment.
The automotive industry has also recognized the benefits of AR. Some functions of the equipment cannot be represented well with a manual operating manual. Mercedes has introduced AR on some models that explain the functions. This innovation resulted in a 17% increase in customer satisfaction.
What do I need to be able to use augmented reality in marketing?
What is certain is that major brands are already using augmented reality in marketing. But this is also possible for small and medium-sized companies. Of course, everything starts with a good idea. There are actually few limits to creativity with AR. A high-quality 3D model is required for implementation. In the final step, this can be integrated into an online shop.
How do I create a 3D model?
3D models can be created in different ways. One possibility is machine learning. Nvidia Nerf has an interesting project here that uses drone footage to generate a 3D scene. This looks very real, but is associated with great effort and costs.
Another eye-catching possibility is to generate images from text input. Keywords can be entered in Dall-E, for example, from which new, unique images are then always thrown out. The basis is data with which the Internet was fed. Google's DreamFusion can even create entire 3D models. But this is still quite tedious and takes several hours even with perfect equipment.
Create 3D models with Mazing
Mazing offers a high-quality and inexpensive solution here. with Mazing can 3D modele can be created easily. Our 3D specialists create an optimized virtual representation of your product at the highest level and only need simple photos as a template - no professional photos are necessary. Alternatively, it can also be created using CAD models, dimensional sketches or 3D scans. Individualized models, which can be adapted by the customer with just a few clicks, are also possible. The finished models are perfect for AR in marketing.
How do I integrate a 3D model?
The finished 3D model must now be integrated into an online shop. Since this is often a quite complex process, it can be advisable to outsource the webshop integration to experts. Since we are partners of all common shop platforms, we are happy to take over the web shop integration for you.
We also offer completely new forms of display, such as virtual screens on which photographs and works of art can be placed. The virtual screen including the image can then be placed in the room. This turns your own living room into a virtual showroom. If that's not enough, you can also take your products to a whole new level - with NFTs. These can be presented virtually in space or in the metaverse via AR.
Is that still music of the future?
Augmented reality in marketing has become indispensable and will be used more and more. That every free space - now also in the digital space - is misused as advertising space is a terrible idea. So it depends on how advertisers use the new technical achievements to exert a positive influence.
Ready to transform your marketing with AR?