New technologies are changing the overall consumer experience. In our post "How the Metaverse will transform digital marketing' notes that due to the rapid growth of augmented reality (AR), numerous companies have specifically incorporated this technology into their modern marketing practices. In the future, you can expect AR to become commonplace in your shopping experience. This is a remarkable way how AR is integrated into daily life will, in particular due to the proliferation of smartphones. Today, brands can provide product details through personal devices, allowing customers to personally interact with relevant information in creative and immersive ways.
An example of this is the use of augmented reality for packaging. the AR technology usually triggers further information when a user points their device at said packaging. In recent years, many brands have integrated AR to create unique packaging and thus create interesting consumer experiences. Below are just a few great examples: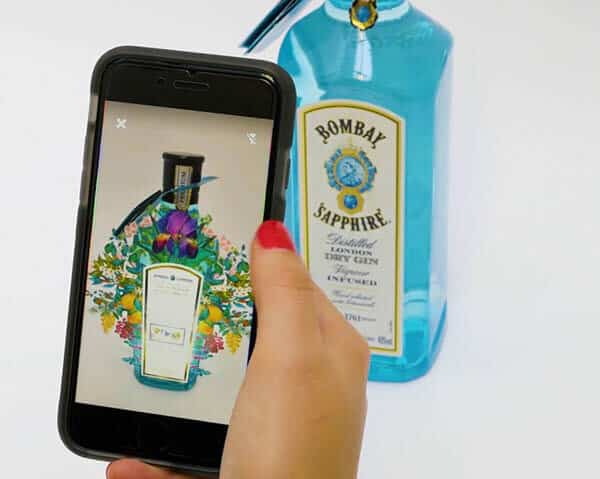 Herbal Essences
Hair care brand Herbal Essences has developed an AR app that allows users to scan their Beach Plastic bottles. The scan triggered an AR experience that placed users in an interactive beach landscape. An informative video was shown there in which the company explained the use of recycled plastic in its limited-edition bottles, while urging consumers to be more aware of the global plastic waste problem. Herbal Essences did well to use sustainability in their AR packaging. In a worldwide survey When it came to sustainability, over 70% of consumers said a brand's actions on climate change would influence their purchasing decisions. Using their AR packaging as a means to convey their story about recycling, Herbal Essences was able to engage consumers who have strong ethical values.
Jack Daniels
The way Jack Daniels uses AR on its packaging underscores its strong brand identity. By scanning a bottle, users were taken through a comprehensive virtual tour of the Jack Daniels distillery. A series of pop-up book-style dioramas guided visitors through the whiskey-making process. In addition, anecdotes from Jack Daniels himself were available to users of the app. The brand's Modern Media Director said in a press release that the AR app was an attempt to deliver unique content through novel digital media - which they certainly succeeded. According to the Wikitude post about the Jack Daniel's AR experience, just thirty days after the app's official launch, there were more than 30.000 iOS and Android users viewing 110.000 "Jack Stories" AR experiences.
Pepsi
#FORTHELOVEOFIT - that was the title of an international football campaign that Pepsi successfully implemented, and of course the AR packaging was one of the key features. By scanning the limited-edition packaging on Pepsi and Pepsi Black/MAX cans, users could unlock AR versions of Messi, Paul Pogba, Mo Salah, and Raheem Sterling. In addition, participants could compete against the named players and share the results of their challenges on Instagram. In a report about like Pepsi gamified AR on packaging applied, the brand said its mobile tactic was becoming popular with many people, regular customers or not. As a result, Pepsi increased its investments in advertising and media to continue building on the success its AR packaging was helping to bring.
The use of AR for packaging is one of the many innovative ways that new technologies are transforming the consumer experience. And with the above examples as proof, more creativity is definitely to be expected.
Ready to bring your products to life with AR for packaging?