Many retailers and e-commerce operators are wondering how they can use the Metaverse to avoid ending up like Nokia. At the least, everyone should learn more about Metaverse Shopping and even try out first concepts. This article provides an overview of the opportunities retailers have to immerse themselves in this new world.
What is Metaverse Shopping?
In the broadest sense, the Metaverse is understood as a graphically rich virtual space with a degree of realism, where people work, play, shop, socialize. In short, being able to do things that people love to do together in real life.
Broadly speaking, this includes 2 technologies, Augmented Reality (AR) and Virtual Reality (VR). However, it is not necessary that these rooms are exclusively accessible via VR or AR headsets. Virtual worlds – e.g. Games like Fortnite, which can be accessed through PCs, game consoles, and even phones — have started to refer to themselves as the "Metaverse."
Metaverse Shopping therefore refers to the possibility of purchasing products in virtual space. Basically not much different than today's classic online shopping, only much better and more real.

What does this mean for me as a retailer?
Due to the fact that large corporations such as Amazon or Meta or luxury brands such as Gucci and Louis Vuitton already rely intensively on AR and VR technologies, smaller companies have to follow. Online shoppers are becoming more and more affine with technology and expect an experience. If you don't prepare for this new Internet now, you will inevitably lose more and more customers to large corporations.
The Potential
For example, initial studies support "the enormous potential of the metaverse in Germany", because over 40 percent of those surveyed can imagine themselves as part of the metaverse. Or: 25 percent of people will spend at least an hour a day in the Metaverse by 2026.
A study by EHI underlines the potential of metaverse shopping. More than 400 decision-makers from leading online shops were surveyed.
Here are the most exciting facts:
Will Metaverse catch on in retail? If yes, from when?
A majority of respondents believe that Metaverse will catch on and that its importance within retailers will increase in 5-10 years.
How large is the estimated benefit potential for different sectors?
The greatest potential benefit is estimated for fashion & accessories, furniture, hobbies & leisure, consumer electronics and department stores.
Which application scenarios would retailers like to use?
Respondents would like to use the following top 3 metaverse application scenarios in their company: virtual shopping support, three-dimensional product demonstrations and advertising in virtual space.
Does retail have enough expertise?
No, only 5 percent of respondents believe their company has the expertise to enter the Metaverse business.
Is Metaverse becoming relevant enough for German retailers to invest in? If yes, from when?
In just 5 years, 1 in 4 retailers could have invested in Metaverse applications.
Download the full white paper here .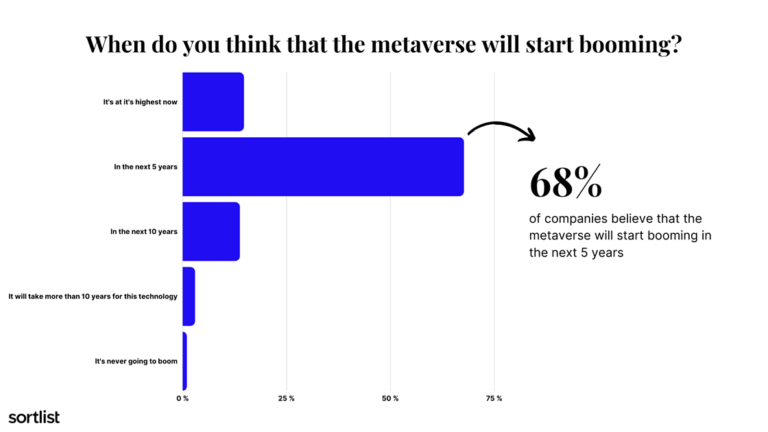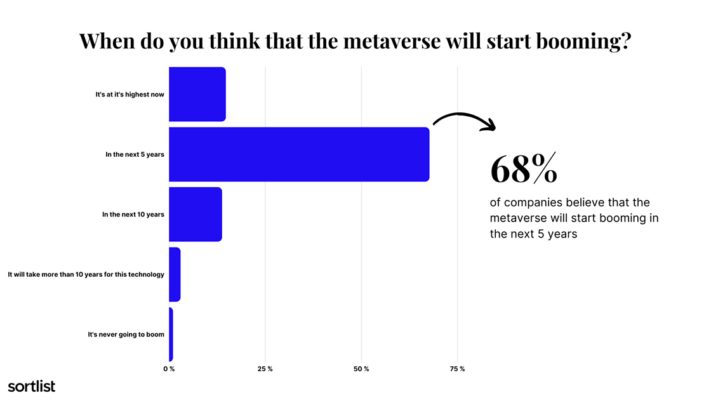 Source: https://www.sortlist.com/blog/metaverse-for-business/
AR: Try products at home before you buy them
Augmented Reality is a metaverse technology to virtually place and experience products in your own home before you buy them. A distinction is made between app and web-based AR or marker / geo or surface tracking. Web-based AR with surface tracking is probably the most popular variant, as it does not require an app download and a model can be placed anywhere and anytime in your own room. All you need is an internet connection. Shops like Made.com or Medion already use Web AR on their websites.
Try-on, i.e. trying on glasses or shoes, is also a very popular feature, but most providers only work with apps or Snapchat or Instagram filters. At Mazing, Try-On works directly on the website without an app.
VR: Virtual Showrooms
Virtual tours and 360° showrooms have been known for a long time and could be described as a precursor to today's much more interactive Metaverse VR solutions. Users can move and interact in a generated environment. Interacting means, for example, putting products in the shopping cart and ordering them.
The fashion industry was one of the first to be in the Metaverse. Here are some well-known examples:
BVLGARI with "BVLGARI World", a virtual world in cooperation with ZEPET

Tommy Hilfiger

Partners with Ready Player Me for virtual twin deployed on platforms such as Somnium Space, VRChat Inc. and Spatial
Hugo Boss offers virtual fitting service using VR changing rooms
Hugo Boss is a good example of how VR is also evolving. Online shoppers can try on clothes with personalized avatars.
Customers can try on thousands of products through personalized mannequins. These can be edited to fit customers' exact body measurements, giving them an accurate idea of ​​how the garments will fit.
Costs and Benefits?
Of course, the question always arises, how much does it cost and what does it bring. Many Metaverse solutions are certainly only there to attract attention and appear innovative. But some actually deliver measurable added value. For example, according to Shopify studies, web AR product placement increases conversion rates by as much as 250%. The returns are also reduced and thus costs are saved here as well. Also important for search engine optimisation ist the website dwell time, which is also increased by 3D and AR.
Web AR is therefore recommended to start with Metaverse Shopping. Depending on the complexity of the products, the creation is even free of charge via the Mazing platform using 3D templates. 3D/AR creation of furniture, for example, is possible from €50,00. For large online shops with 10.000+ complex products, we therefore always recommend starting with the top sellers first, in order to at least enjoy the first mover advantage and gain initial experience with the Metaverse.
Ready to step into the Metaverse?