Why nobody wants to download an app anymore
Augmented Reality is not only a new kind of entertainment, it simplifies highly relevant decisions for us in the current digital age. This applies above all to online purchasing decisions, which are associated with a high price and risk. As already mentioned in other articles, AR technology through WebAR and App AR can be used to put a virtual sofa in your own living room, hang art on a virtual screen on your own wall or even have animated avatars playing around on the table.
In addition to the entertainment factor that AR guarantees in many areas, it is now mainly used in companies as an effective tool to make virtual shopping as easy and innovative as possible. Therefore, the following question arises for every provider who wants to use augmented reality for their own website: Should customers be able to visualize their own products in AR via an app or directly on the browser?
The difference between app and browser based AR
There are two ways to visualize objects online in Augmented Reality: WebAR and App AR. App Augmented Reality is based on downloading an app through which the application is done at the end, the other allows users to access an AR viewer directly on a web page. Both types have their advantages and disadvantages. App-based AR often comes with a variety of features, but WebAR is still a lot more user-friendly and accessible for users searching for a product online. Accordingly, WebAR turns out to be a much more effective choice when it comes to promoting your own business online.
App-based AR
App-based augmented reality provides AR software which is used through the use of an external app. This type of AR is developed by special software and tools specialized in object, depth, surface and light detection.
Benefits App AR
Augmented reality apps usually have more features than WebAR apps because apps allow the use of more advanced technologies. Both the quality of the graphics and the performance itself can often be better here. This is mainly due to the larger storage capacity of apps. Animations and interactivity can also be displayed a lot better - for multiplayer video games, app-based AR is excellent to ensure the gaming experience runs smoothly.
Disadvantages App AR
However, the biggest disadvantage of AR apps, especially in the e-commerce sector, is the fact that you first have to get users to download an app. This is quite a data-intensive step that many online shoppers do not want to take, especially when it comes to products that they want to visualize immediately in their own home without any effort. Privacy Policy is also an important reason why most AR users want to do without an app. It is often not known whether data collected by the AR app is passed on to third parties without permission. Although perhaps a little less noticed, AR app users can encounter malware that can hack the smartphone itself by embedding malicious content through advertising in the app. In addition, as an online provider, you also have to keep in mind the development costs of such an app. It often takes a lot of testing before you can offer an app that is both user-friendly and compatible with all common operating systems such as iOS or Android.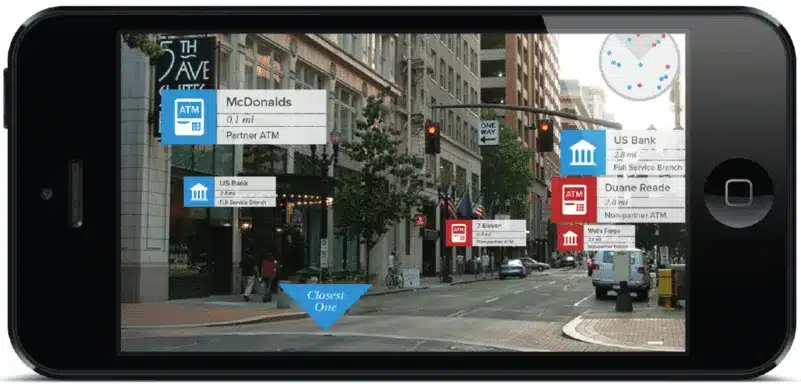 Source: https://locatify.com/blog/location-based-augmented-reality-apps-2017-rtls-ar/
WebAR
WebAR means augmented reality applications that are directly accessible via a browser instead of an app. Browser-based augmented reality is therefore more practical to use because there is no need to download apps. More and more companies are looking for exactly this smooth kind of augmented reality to offer their prospects a fast and efficient solution for product presentation.
Benefits of WebAR
As already indicated above, WebAR is characterized by a lower memory capacity, since a larger memory demands too much from a normal browser. Animation and true interactivity may be less complex (but not impossible) here, but for the purpose of displaying products online, WebAR is more than equipped. The goal here is not the development of a complex multiplayer game anyway.
WebAR allows users to interact with virtual objects without the annoying intermediate steps involved in downloading an app. Accessing web-based AR experiences is often as simple as clicking or scanning a QR code, which leads to an AR-enabled website. All of this translates into a much wider reach, better conversion rate, and optimized engagement with the target audience, which translates into higher sales numbers in the end.
The simplified access to WebAR applications also enables them to be used by a wide variety of mobile devices, while apps, on the other hand, can often be limited to a specific operating system or device.
Disadvantages of WebAR
Web-based augmented reality (AR) has a number of disadvantages compared to app-based AR. A downside is the limited functionality of web-based AR as it depends on the internet connection, which can be unreliable or slow. Also, web-based AR often doesn't have the processing power of app-based AR, which can negatively impact the user experience, especially when it comes to AR games.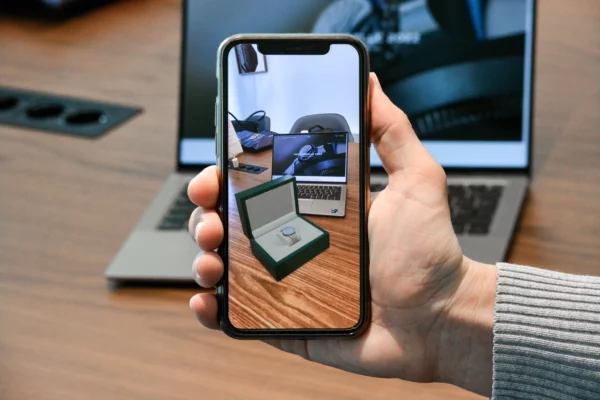 Click on "VIEW IN ROOM" and test Web AR:
How to get to WebAR?
In contrast to augmented reality apps, which can often only be programmed by the expertise of experienced developers and where the UI design also plays a major role, WebAR can in some cases be created yourself if you have access to the right software. However, external platforms such as Mazing can also help, which not only offer a server for the required hosting, but you can also save on 3D modeling costs if you don't have your own products ready in digital form yet. This not only saves you money, but also a lot of time. You can find the individual steps for WebAR applications here