A meaningful and high-quality product presentation is crucial in order to bring as many website visitors as possible to the conclusion of a purchase. Due to the large number of online shops, the bounce rate is increasing and it is more difficult to stand out from the competition, especially with a small budget. The average value for the length of stay on a Website is around 40 seconds according to the statistics company Nielsen/NetRatings and that is why it is important to convince potential customers in a short time. Not every online shop has the same tools. Therefore, in this article we want to give a complete overview of the possibilities for optimizing the product presentation online.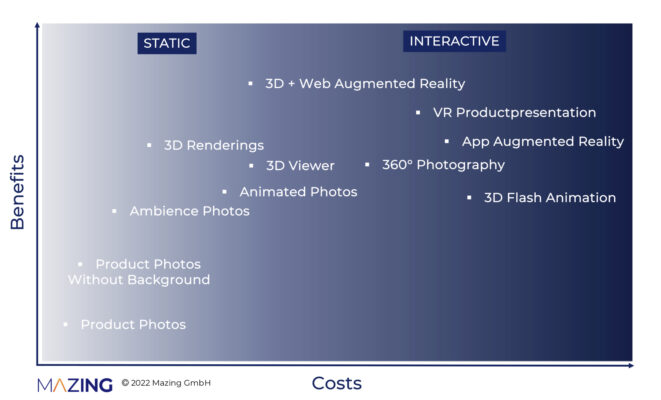 The graphic provides an overview of the various options for online product presentation. Based on various projects, we have compared the costs and benefits. There are of course differences depending on the industry and the positioning can vary.
Static product representation
Even with an interactive display, "normal", static images are also required at certain points on the website or online shop. It is important that these are as uniform as possible. That's why we always recommend using isolated images. If you want to take this to a new level, go for it 3D renders to grab. These are especially useful when selling large/bulky products. The photography of these products is usually very complex, so renderings often help to optimize the product presentation online without much additional effort.
How much effort are 3D renderings?
In order to optimize the product presentation on the website with 3D renderings, we recommend working with an agency. At Mazing, for example, we have very good processes for creating renderings quickly and cheaply. This is usually more cost-effective than doing it yourself. Normally only simple photos are required as templates, which can then be delivered within 2-3 days. Of course, the price depends on the complexity of the product and the number, since the models also have to be 3D modeled.
The following points influence the costs of 3D modelling:
Complexity (armchair is simpler than sofa)
Background (stock or custom)
Number of viewing angles
Number of rework
urgency of a project
As an example, 3D renderings including modeling of an armchair are available for €150,00 each. Displaying products in an existing space would cost €250,00.
Another way to optimize product presentation online would be to use moving images such as GIFs. However, these are usually more complex and less useful than 3D renderings, which is why we recommend using 3D modeling right away. Also worth mentioning would be a 3D viewer or a 3D product display. This allows the previously modeled products to be displayed in 360° on the website, which is already an interactive product display. With Mazing, AR is already included in the 3D viewer, which means there are no additional costs for 3D and Web Augmented Reality, but there are many more advantages.
Interactive product presentation
Online customers are already helped if they are given the opportunity to take a closer look at a product through 3D renderings. An interactive product presentation such as with VR/AR, on the other hand, not only enables you to appraise but also offers you interaction with the products.
Virtual Reality
With VR, products can also be viewed in their own environment or in a simulated environment. VR glasses are required for this. This technology is particularly helpful for complex applications that go beyond product presentation. However, we do not recommend VR for online shops, as only a fraction of users have VR glasses.
Web/app augmented reality
With AR, a 3D model from an AR viewer is placed in your own home. The advantage over VR is that no glasses are required, but the application is started directly with the smartphone or tablet.
This is done either through apps, or as with Mazing, without any additional app download. If, like the latter, you want it to be really easy, Web Augmented Reality is the right choice. With AR that is browser-based, you can access the AR Viewer in two ways:
With a single click on your smartphone or tablet
With a click on the desktop browser, a QR code appears for scanning
The camera in your own smartphone then scans free areas in the area and the 3D model is placed in the room. The true-to-scale representation makes the virtual product look as if it were actually in the middle of your own home. Depending on the product, we recommend installing configurators, for example to show size or color variations or to show a movement execution through an animation.
An interactive product display through AR has significantly more advantages than static images. For more functional products, it is very helpful for online customers if they can rotate and turn the product themselves in the AR Viewer. Once placed in your own premises, you can interact with the product in a more realistic way - be it smaller decorative objects for closer inspection or even large products with their own interior design, in the case of a sauna, for example, this becomes virtually accessible through AR.
We have observed that optimizing product presentation online using 3D and AR allows customers to stay on the website much longer, thereby increasing the conversion rate.
How much effort is AR?
The price mainly depends on the number, complexity and features. A simple armchair, for example, would be available from as little as €300,00, including 3D modelling, fittings and software. This gives you a finished 3D/AR viewer ready for implementation on the website.
Do you need help creating your 3D renderings or would you like to learn more about AR possibilities?